O
ne of my good friends threw a 50th birthday party for her mother last night, and the party had a 50's sock hop theme. She had the cutest cake that was decorated like 45 rpm records. We had burgers to eat, Coke in the little bottles and ice cream to make floats. She also had an assortment of 50's type candy including those little wax bottles with sweet syrup in them as well as pixie sticks and fireballs. Boy did those bring back memories.
S
he had loaded her iPod with 50's music and played it through a miniature jukebox. She even had bought a carhop costume, complete with roller skates.
W
e ate, we talked, we laughed, we danced and we had a hula hoop contest (which I won by the way and I'm not sure how because I haven't played with a hula hoop since probably the 50's). I'd show the photo from the hula hoop contest, but it was taken from the rear and well... my rear isn't as small as it used to be. LOL!
A
nd we also had our pictures taken. So here's the DH and I dressed in our biker gear.
We roared in on the DH's Harley and all I could think of was the Fonz. Aaaaaay! You can't see, but my jeans were rolled up to mid-calf and I had on white bobby socks and white sneakers. Notice the class ring on a chain around my neck? The DH and I are going steady. ;-)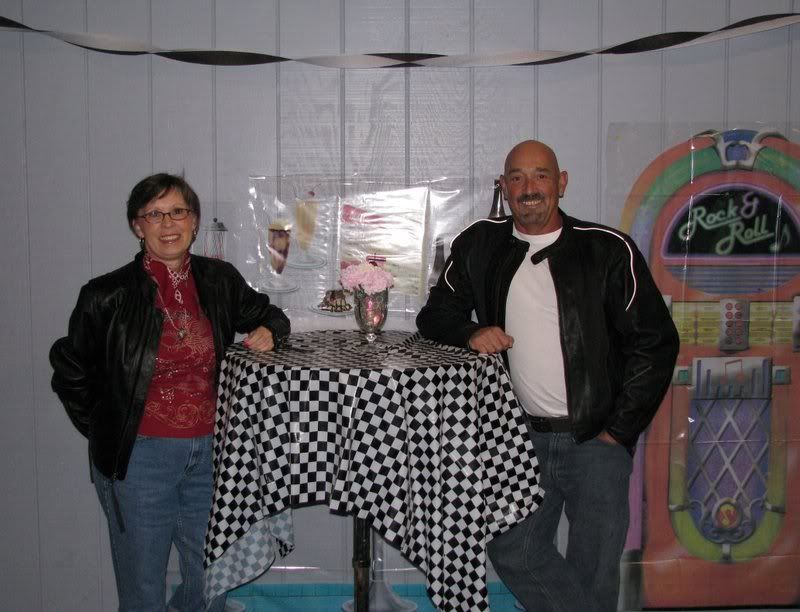 Theme parties are fun. Have you been to one lately?